Easily Migrate Servers From Anywhere to Anywhere: Cloud, Virtual and Physical
A data center transformation solution for server consolidation and migration projects.
Complete data center transformation, server consolidation, and server migration projects blazingly fast. Get minimal downtime and maximum automation with PlateSpin® Migrate (formerly NetIQ® PlateSpin Migrate).
PlateSpin Migrate is the IT pro's go-to solution for cloud and data center server migrations, using high-speed block-based transfers and Server Sync technology to deliver the fastest and most efficient anywhere-to-anywhere migrations. Migrate your servers to and from physical, virtual, and cloud locations.
Physical, virtual, cloud.

 Multi-platform migrations with support for 32- and 64-bit Windows and Linux.

Automation.

 Maximum automation means faster, error-free migrations.

Integrated testing.

 Every migration gets tested as part of the process.
Faster, more reliable migrations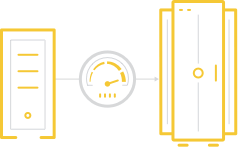 Integrated testing for safer migrations