Effective Security Awareness Training 
For The Enterprise.
KnowBe4's Enterprise Awareness Training Program provides you with a comprehensive new- school approach that integrates baseline testing using mock attacks, engaging interactive web-based training, and continuous assessment through simulated phishing, vishing and smishing attacks to build a more resilient and secure organization.
CISO's that use KnowBe4 sleep better at night.
Enterprise Security Awareness Training
Your employees are frequently exposed to sophisticated social engineering attacks. It is time for a comprehensive approach to effectively manage this problem, managed by people with a technical background.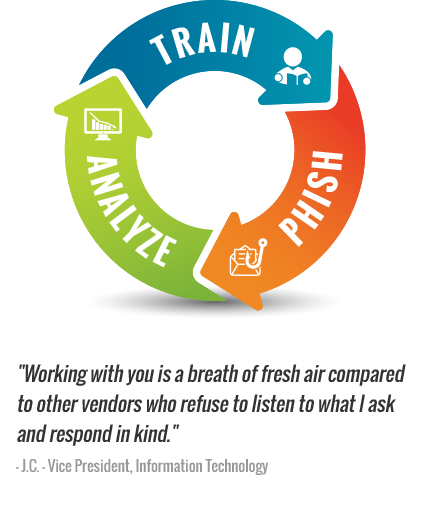 Baseline Testing
We provide baseline testing to assess the Phish-prone percentage of your users through a simulated phishing, vishing or smishing attack. Test our platform yourself for 30 days.
Train Your Users
The world's largest library of security awareness training content; including interactive modules, videos, games, posters and newsletters. Automated training campaigns with scheduled reminder emails.
Phish Your Users
Best-in-class, fully automated simulated phishing, vishing and smishing attacks, thousands of templates with unlimited usage, and community phishing templates.

See The Results
Enterprise-strength reporting. Both high-level and granular stats and graphs ready for management reports. We even have a personal timeline for each user.

Integrated Platform
KnowBe4's platform integrates all functions in one, easy to use GUI. Kick off training campaigns and simulated attacks in minutes. You can completely customize your own templates, landing pages and simulated attachments, spoof your own domain for simulated CEO Fraud attacks with reply tracking.

Superior Tech Support
As an enterprise customer, you are automatically enrolled in our Platinum Tech Support program. We are U.S.-based, pride ourselves on very short response times and have an excellent reputation.

Improved Security Behavior
Thousands of customers have shown that the KnowBe4 approach works. Repeated studies show your employee Phish-prone percentage drops more than 90%. Our free Phish Alert button email reporting add-in reinforces security training for Outlook, Gmail and Notes.

Random Attack Delivery
KnowBe4 was the first to provide you with "double-random" message delivery. Choose from 2,100+ highly realistic phishing messages, spread over time during working hours. Every employee receives a different phishing email at a different time. New templates from the wild are constantly added and we create "Current Events" templates for you.

Unlimited Use
We offer three Training Access Levels: I, II, and III, giving you access to our content library of 500+ items based on your subscription level. Unlimited access to all phishing features with flexible licensing. No artificial license ceilings and 10% overage allowance. Powerful new features added regularly.

Managed Services
No time to deploy your awareness training program? Our experts will work with you to create a project that meets your unique needs and give you actionable reports to improve end-user security. Our Managed Servicesoption is fully customizable.
Create A Fully Mature Security Awareness Training Program
Cybercrime has gone pro. More than ever, your users are the weak link in your network security. They need to be trained and then stay on their toes, keeping security top of mind.
KnowBe4 is the world's most popular integrated Security Awareness Training and Simulated Phishing platform with thousands of active enterprise accounts. You finally have a platform to better manage the urgent IT security problems of social engineering, spear-phishing, and 
ransomware
 attacks and at the same time stay compliant with industry regulation like PCI, HIPAA, SOX, FFIEC and GLBA.
With world-class, user-friendly, new-school Security Awareness Training, KnowBe4 gives you self-service enrollment, and both pre-and post-training phishing security tests that show you the percentage of end-users that are Phish-prone. KnowBe4's highly effective, frequent, "double-random" Phishing Security Tests provide several remedial options in case an employee falls for a simulated phishing attack.
Effective security awareness training is hard. Today's security awareness teams often don't have the support, time, or resources they need to be successful and/or are missing the skills and experience to effectively create a fully mature security awareness program. To help you get started we've taken away all the guesswork with our 
Automated Security Awareness Program (ASAP)
.
ASAP is a revolutionary new tool for IT professionals, which allows you to create a customized Security Awareness Program for your organization that will help you to implement all the steps needed to create a fully mature training program in just a few minutes!
Find out how thousands of organizations have mobilized their end-users as the last line of defense.
Training Access Levels
KnowBe4 provides you with the world's largest library of 500+ security awareness training content; including interactive modules, videos, games, posters and newsletters.
We offer three Training Access Levels: I, II, and III, giving you access to our content library of 500+ items based on your subscription level. You will get web-based, on-demand, engaging training that addresses the needs of (very) large organizations.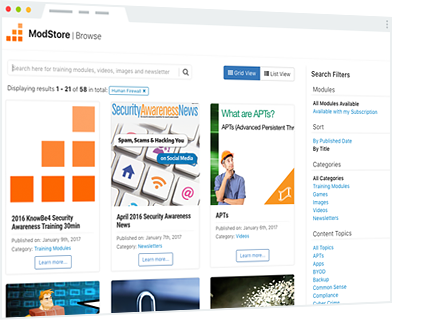 Our 5,- 15-, 25- and 45-minute basic training modules specialize in making sure employees understand the mechanisms of spam, phishing, spear-phishing, malware and social engineering, and are able to apply this knowledge in their day-to-day job. You get high quality web-based interactive training combined with common traps, live demonstration videos, short comprehension tests and scenario-based Danger Zone exercises.
Trainees get a unique job-aid: Social Engineering Red Flags™ with 22 things to watch out for. Your Training Campaigns do the heavy lifting of getting users through their training. We can offer you a package or training modules customized for your organization.  Our SCORM compliant modules can be hosted in our cloud-LMS or be uploaded in your own LMS.
The first thing out of your end-user's mouth when they finish the training module? "Wow, I did not know it was thatdangerous on the Internet, how do I share this with my family?"  And we have an answer for that too...
Phishing & Vishing
You can schedule regular Phishing Security Tests (PST for short) from our large library of more than 2,500 "known-to-work" templates, or choose from the community templates section, which were created "by admins for admins" to share with their peers. You can also create your own custom phishing templates. There are many more features!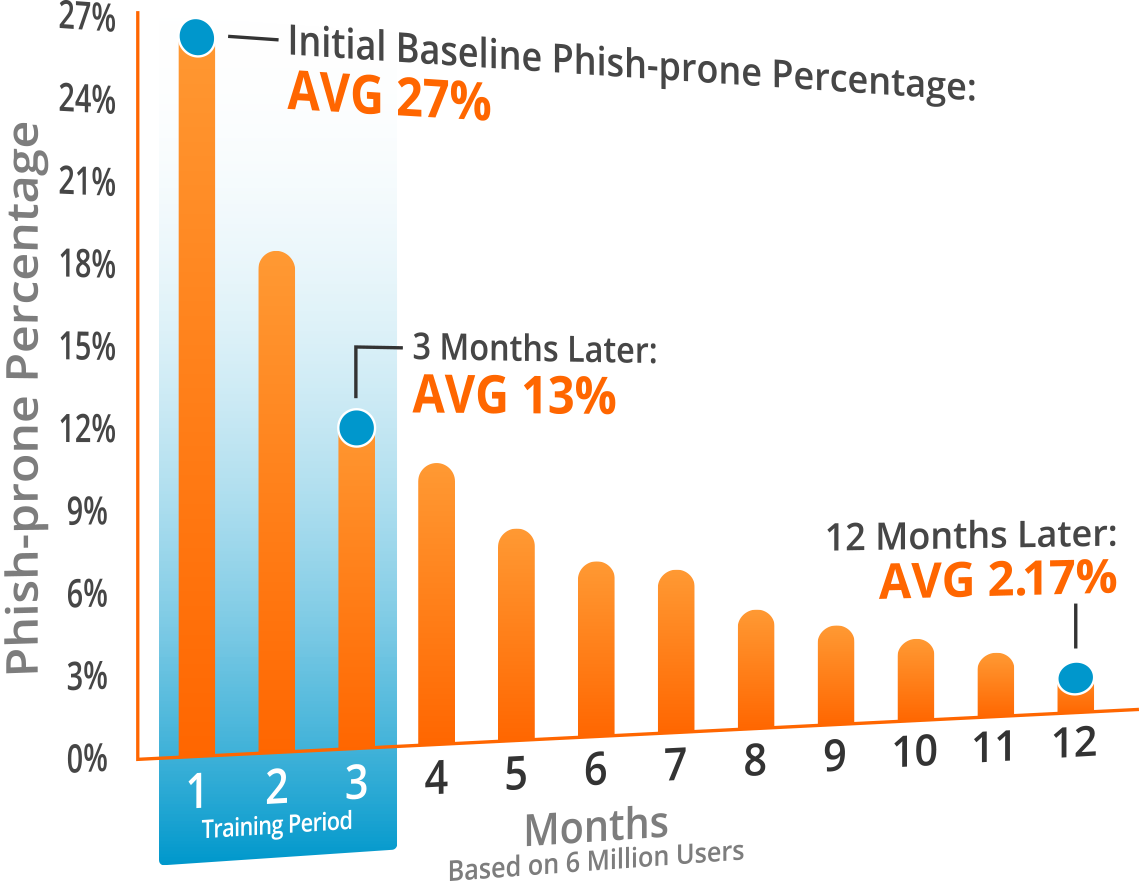 NEW Industry Benchmarking feature lets you compare your organization's Phish-prone percentage™ with other companies in your industry. See where you stack up! Monitor your employee phish-prone percentages over time and watch how performance from your initial baseline phishing test, after 90 days, and 1 year compares. With regular phishing security tests and training campaigns, you'll see how your Human Firewall improves over time helping to reduce risk and improve your IT security defense. You'll have real-time stats that helps you keep a pulse on how your security awareness program and employees stack up against other companies in your industry. Great intel to share with your management team!
Our Phishing Reply Tracking allows you to track if a user replies to a simulated phishing email and can capture the information sent in the reply. You can also track links clicked by users as well as test and track if users are opening Office attachments and then enabling macros.
In case an employee falls for one of these simulated phishing attacks, you have several options for correction, including instant remedial online training. You can schedule one-shot, weekly, bi-weekly or monthly simulated phishing attacks and immediately see which employees fall for these social engineering attacks. Here is some visible proof the training works over a 12-month period.
In addition, KnowBe4's Phish Alert Button reinforces your organization's security culture, users can report suspicious emails with one click.
When the user clicks the Phish Alert button on a simulated phishing email it's reported in the Admin Console.
Incident Response gets early phishing alerts from users, creating a network of "sensors".
Your employee gets instant feedback, which reinforces their training.
Advanced Phishing Features
Phishing Reply Tracking™ allows you to track if a user replies to a simulated phishing email and can capture the information sent in the reply. This feature works hand-in-hand with the simulated CEO Fraud attacks you can launch to inoculate high-risk employees.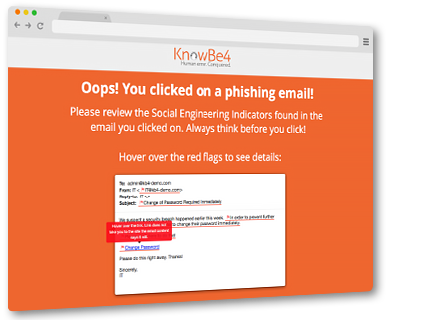 Social Engineering Indicators™ (SEI) patented technology, turns every simulated phishing email into a tool IT can use to instantly train employees. When a user clicks on your SEI-enabled simulated phishing emails, they are routed to a landing page that includes a dynamic copy of that phishing email showing all the red flags. You can also customize any simulated phishing email and create your own red flags. Users can then immediately see the potential pitfalls and learn to spot the indicators they missed in the future.
USB Drive Test™ allows you to test your user's reactions to unknown USBs, on average 45% of users will plug in USBs they find! You can download a special, "beaconized" Microsoft Office file from your KnowBe4 admin console onto any USB drive which you can drop at an on-site high traffic area. If an employee picks up the USB drive, plugs it in their workstation, and opens the file, it will "call home" and report the fail. Should a user also enable the macros in the file, then additional data is also tracked and made available in the admin console.
GEO-location lets you see where your simulated phishing attack failures are on a map, with drilldown capability and CSV-export options.
Vulnerable Browser Plugin Detection  automatically detect what vulnerable plugins any clickers on your phishing tests have installed in their browsers and can be viewed within your console.
EZXploit™ has patent-pending functionality that allows you to do an internal, fully automated "human pentest" at a fraction of the cost to do this manually.  EZXploit takes your simulated phishing attacks to the next level. You can now find out which of your users can actually be exploited by hackers.
User Management and Reporting
As the Security Awareness Training project leader, you can manage your program with confidence.
Smart Groups put your phishing, training and reporting on autopilot.
Automate the path your employees take to smarter security decisions. With the powerful Smart Groups feature, you can use each employees' behavior and user attributes to tailor phishing campaigns, training assignments, remedial learning and reporting.
Create sophisticated, targeted workflows without the headache, and make sure every employee is a strong building block of your human firewall. You can see the intersection of the criteria you specify - whether you're building simple phishing clickers remedial training workflow or complex, multi-criteria location, behavior and timing-based workflow. Best of all, Smart Groups is a powerful ad-hoc, real-time query tool that you use to get detailed reporting for management, so you'll always know how your security awareness program is working.
See Smart Groups in action, watch The Incremental Phishing with Smart Groups video here.
---
Easy User Management
KnowBe4's Active Directory Integration allows you to easily upload user data and saves you time by eliminating the need to manually manage user changes. Once the ADI is configured, users will be added, changed and archived in sync with changes made within AD automatically. If you use Microsoft Azure AD, you can enable automatic provisioning for the addition and removal of users. For security reasons, the synch only works one-way. You can also upload users with CSV files.
Security Roles allows you to assign granular access control for users and groups within the KnowBe4 console. Create custom permissions for the exact roles needed by your organization. Easily allow groups like HR teams to access reporting only to review individual user results or employees with creative control to create phishing templates and landing pages.
---
Enterprise-strength Reporting
The reports are exportable, provide geo-location of failures, and help you focus on the areas that will benefit you the most. You are able to improve your decision-making and reduce security risks across the whole organization. Executives get the insight they need to maximize training ROI and track security compliance. You can also leverage KnowBe4's Reporting APIs for custom reports and dashbaords that integrate with Business Intelligence (BI) tools to give managment visibility into the efficacy of your security awareness program.